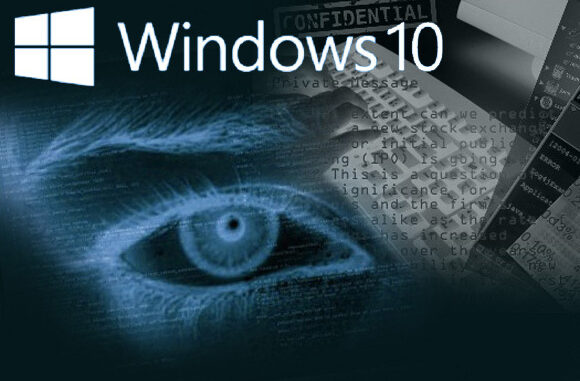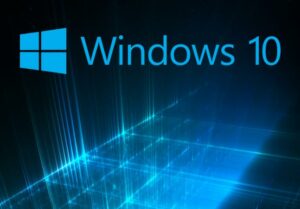 Op 29 juli 2015 is Windows 10 voor veel mensen kosteloos beschikbaar.
Ikzelf heb ook niet heel lang gewacht en heb 1 van mijn pc's inmiddels op deze gratis upgrade draaien. Ben redelijk tevreden maar moet wel wennen aan sommige nieuwe schermen en instellingen. Eén van deze instellingen in het bijzonder.
Tijdens de pre-release periode waar ik ook aan heb mee gedaan, is er duidelijk aangegeven door Microsoft dat er een zogenaamde "keylogger" in het systeem zit verwerkt. Deze zou als doeleind hebben gehad om de eventuele fouten of minder goed werkende onderdelen van de BETA versie sneller te vinden en dus ook op te kunnen lossen. Er gaat met het uitbrengen van software nu eenmaal een hoop geld gemoeid en tijd is geld.
Tevens werd er aangeraden om deze BETA versie om deze reden dan ook niet in bedrijfsmatige netwerken mee te laten draaien vanwege eventuele bedrijfsgevoelige informatie en dergelijk die per abuis mee gezonden zou kunnen worden met deze keylogger. Een logisch verhaal en zeker als je weet dat de gebruikers van de pre-release over het algemeen IT mensen zijn die software en hardware willen testen om de eventuele overgang zo soepel mogelijk te laten verlopen.
Nu schets mijn verbazing dat de "keylogger" in de officiële versie nog steeds aanwezig is en standaard actief! Dit betekend grofweg dat Microsoft je toetsaanslagen, je stem/gesprekken en nog meer zou kunnen opvangen (ik zeg hiermee NIET dat dit ook het geval is).
Hoe zet je deze optie uit?
Onderstaande een korte uitleg over hoe je deze functie geheel zelf kunt uitzetten.
Ga als eerste naar instellingen en kies voor privacy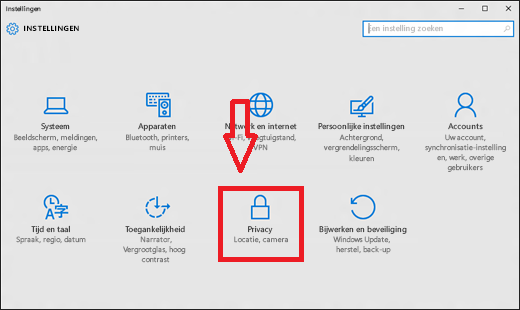 Kies vervolgens in de linker kolom voor algemeen (standaard eerste scherm) en zet dan vooral de derde optie (te zien in de afbeelding hieronder) UIT.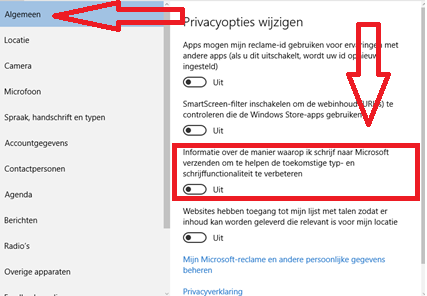 Klik vervolgens op "Spraak, handschrift en typen" en klik vervolgens op de grote knop "Stoppen met leren kennen" zodat er "Leren kennen" wordt getoond.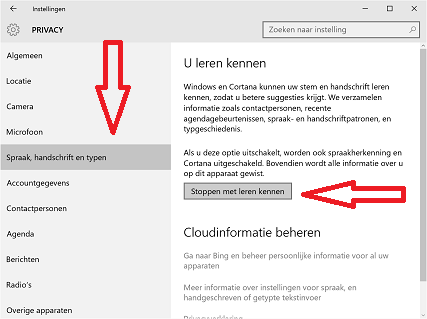 Hiermee zou je de meeste gevoelige instellingen hebben aangepast.
Wat vind jij van al dit soort verborgen instellingen? Voel jij je bekeken en gecontroleerd of maakt het je niet zoveel uit? Laat je mening weten in het onderstaande reactie formulier!
Binnenkort zal er weer meer nieuws en meer tips worden gedeeld op Techfreaks.nl. We zijn weer terug van weg geweest!