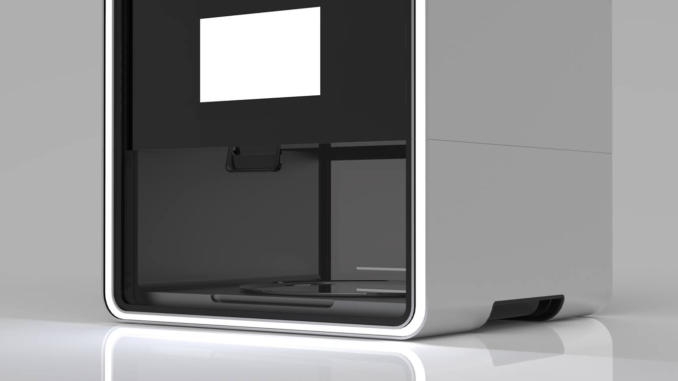 Om een of andere vreemde reden lijkt de pizza altijd in de voorhoede te zijn van nieuwe technologie. Het was het eerste voedsel dat je online kon bestellen, het eerste voedsel wat je legitiem kon kopen en via drones wordt bezorgd en nu staat hij weer vooraan te trappelen bij 3D printen.
Natural Machines, een startup uit Barcelona, heeft een prototype 3D-printer genaamd Foodini die fatsoenlijke en eetbaar uitziende pizza kan maken. Op de zelfde wijze als een reguliere 3D-printer een lichtschakelaar of badstop print.
Het is niet de eerste keer dat er een poging wordt gedaan om printbaar eten te maken echter dit is één van de beste pogingen tot nu toe. NASA heeft aanzienbare tijd aan "3D food" gewerkt en een handvol andere organisaties hebben video's zoals deze geplaatst die laten zien dat het een levensvatbaar concept is. De meeste vroege pogingen resulteren in een pizza die er niet echt smakelijk uit ziet. Foodini, aan de andere kant, kan een taart maken die er helemaal niet zo slecht uit ziet.
Bij het maken van de pizza, begint de printer met het pompen van het deeg door een strak spiraal en herhaal dit proces met de saus. De kaas en de kruiden worden er met de hand over heen gestrooid wat eigenlijk een beetje valspelen is maar we zijn bereid Natural Machines het voordeel van de twijfel te geven. Zeker gezien het feit dat Foodini nog meer kan dan alleen pizza's maken. Nog even terug komend op de taarten, de printer kan lekker maken zoals koekjes, chocolaadjes en gevuld ravioli. Bekijk de onderstaande video en zie de printer in actie.

Op dit moment is de printer nog een prototype, maar Natural Machines werkt hard om het design af te ronden en te beginnen met massa productie. Uiteindelijke is het de bedoeling dat Foodini wordt gezien en gebruikt als een normale keukenmachine zoals een koelkast of magnetron maar ik zie meer voordelen en toepassingen in het bedrijfsleven. Als voedsel printer zijn weg weet te vinden tot in de keukens van fastfood ketens dan kunnen zij in staat zijn om de "human touch" geheel te laten verdwijnen. Stel je voor, je besteld je pizza online via de laatste smartwatch om je pols die vervolgens wordt geprint zoals jij hem lekker vind en wordt bezorgd met een quadcopter drone.
Is dit nog heel ver weg of nabije toekomst?
Lees meer op Natural Machines