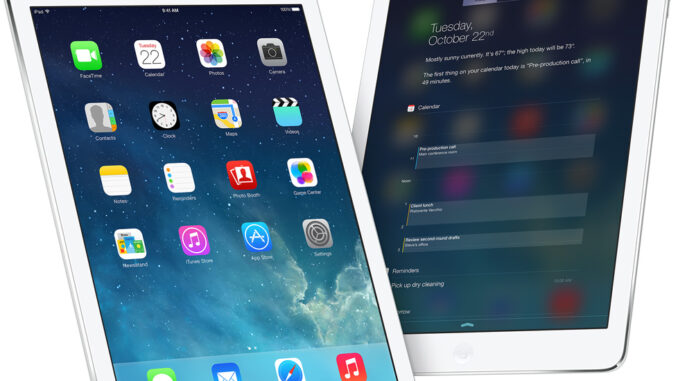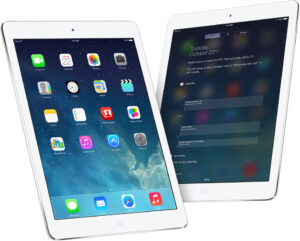 Apple heeft dinsdagavond tijdens een speciaal persevenement in de Verenigde Staten de nieuwe iPad aangekondigd. Dit nieuwe lid van de familie heeft de naam "iPad Air" gekregen. De meest opvallende vernieuwing is het compacter ontwerp wat ook bij de iPad mini gebruikt wordt. Verder heeft deze nieuwe telg een vlottere A7 chip die ook gebruikt wordt in de iPhone 5s. Ook zijn zoals verwacht, de nieuwe iPhone kleuren ook aan de nieuwe iPad-lijn toegevoegd. Deze was tot nog toe verkrijgbaar in spacegrijs en wit/zilver.
Onder de motorkap: snellere en sterkere A7 chip en de M7 motion processor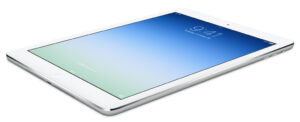 Door de nieuwe en snellere A7 chip is de iPad weer iets sneller dan de 4de generatie. De chip is gebaseerd op de A7 chip van de iPhone 5s en zou zowel een algehele prestatie verbetering (2 keer sneller open van apps en een vloeiender algehele ervaring) als een betere grafische ervaring moeten brengen.
De M7 motion processor die ook bij de 5s vandaan komt kan onafhankelijk van de CPU bepaalde taken uitvoeren. Tevens communiceert de M7 met het kompas, de gyroscoop en de accelerometer. DE M7 kan bijvoorbeeld gebruikt worden als stappenteller, zelfs als de app hiervoor niet in gebruik is.
Verder heeft de iPad Air een 5 megapixel-camera waarmee je 1080p HD-video kunt opnemen en een 2 maal snellere 802.11 n Wi-Fi chip die snelheden tot wel 300Mbps mogelijk moet maken. Aan de voorkant zit tevens een nieuwe 720p HD-camera (ook wel FaceTime genoemd) met dubbele microfoons.
Nieuw ontwerp
Er is door Apple gekozen voor een smallere behuizing dan die we al van de iPad mini kennen. Hierdoor is niet alleen de behuizing smaller maar ook de zogeheten "bezel" (ook wel schermrand genoemd) is smaller dan bij zijn voorgangers.
Er wordt gebruikt gemaakt van het zelfde scherm als bij de iPad 4 met een resolutie van 2048 x 1536 pixels met 264 ppi (pixels per inch). Hiermee zijn pixels niet van elkaar te onderscheiden.
Het smallere ontwerp heeft ook zijn voordelen op het gewicht. Het gewicht is namelijk flink afgenomen tot 469 gram (Wi-Fi model) en daarmee is de iPad-air maar liefst 28 procent lichter dan zijn voorganger die 635 gram weegt. Hij is niet alleen smaller en lichter, hij is ook nog eens 20 procent dunner dan de iPad 4 en is in omvang 24 procent afgenomen. De A7 chip is efficiënter waardoor een kleine batterij mogelijk is zonder in te leveren op de accuduur aldus Apple. De accuduur is nog steeds ongeveer 10 uur. Die nieuwe kleuren, met uitzondering van goud, maken nu ook hun opwachting voor de iPad.
Uitvoeringen
De iPad Air Wi-Fi model is leverbaar in de kleuren spacegrijs en wit/zilver met 16, 32, 64 of 128 GB opslag. De prijzen voor deze modellen zijn respectievelijk 479, 569, 659 en 749 euro. De iPad Air met 3G/LTE wordt in dezelfde configuraties voor respectievelijk 599, 689, 779 of 869 euro verkocht.
Meer informatie: http://store.apple.com/nl/buy-ipad/ipad-air