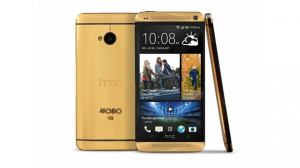 Goud is de nieuwe trend in smartphone land!
Na de gouden Samsung S4 en in respons op de grote populariteit van de gouden iPhone 5s, kon HTC niet achter blijven en werd er afgelopen week een 18 karaat gouden HTC One gepresenteerd in de UK. Ook de frontzijde is van goud. Er zijn door HTC momenteel maar 5 exemplaren gemaakt, waarvan er 1 speciaal voor de winnaar van de MOBO (Music Of Black Origin) Beste Nieuwkomer Award zal zijn. De rest is voor commerciële events en speciale gelegenheden.
De 18 karaat gouden HTC One heeft een prijskaartje van omgerekend € 2.960,-.
Er is echter wel een bedrijf, genaamd Goldgenie, die al wat langer gepimpte versies van smartphones maakt en aanbiedt. Zoals een 24 karaat versie van de gouden HTC One!
De gouden HTC One van Goldgenie is verkrijgbaar met 32GB of 64GB geheugen en komt in een fraai kistje van eikenhout. Het toestel is beschikbaar in drie verschillende uitvoeringen, te weten Goud (€ 2.200,-), Rose Goud (€ 2.345,-) en Platina (€ 2.460,-). Goldgenie kwam afgelopen jaar ook al met gouden edities van de Samsung Galaxy S4 en de BlackBerry Q10.
Hieronder kun je een filmpje bekijken van de 24 karaat gouden versie: