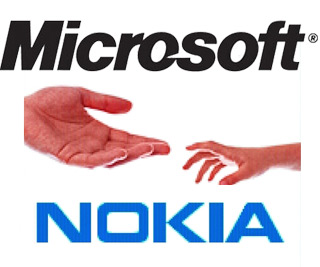 Nokia heeft op 22 oktober een pers conferentie georganiseerd in Abu Dabi in de Verenigde Arabische Emiraten.  Alhoewel Nokia niet heeft laten weten waar ze mee gaan komen, gaan de geruchten op internet dat ze komen met een Nokia tablet, uiteraard met Windows 8.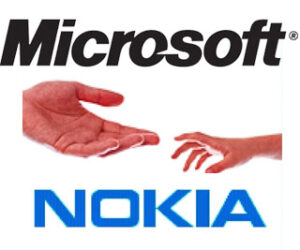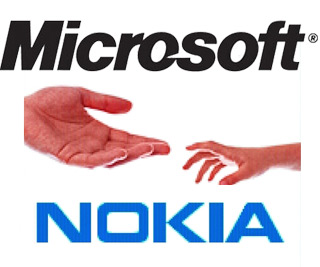 Vorige maand werd in het nieuws bekend dat Nokia binnenkort door Microsoft wordt overgenomen.
De deal heeft een waarde van 5,44 miljard euro en zal begin 2014 rond zijn, als de overname ook goedgekeurd is door aandeelhouders en mededingsautoriteiten.
De overname bestaat uit 2 delen. Microsoft betaald voor de afdeling van Nokia die apparaten- en diensten ontwikkeld en produceert een bedrag van 3,79 miljard euro.
Nokia staat niet alleen bekend om zijn mobiele telefoons, maar ook om het ontwikkelen, produceren en verkopen van apparatuur voor mobiele netwerken en locatiediensten. Dit deel van Nokia blijft zelfstandig. Ook voor het kunnen gebruiken van de patenten van Nokia betaalt Microsoft nog eens 1,65 miljard euro. Al met al is het een "koopje"!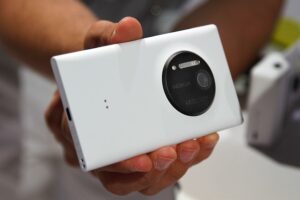 Voor de overname bekend werd had Nokia haar nieuwe vlaggenschip, Nokia Lumia 1020, geïntroduceerd die sinds enkele weken ook in Nederland verkrijgbaar is. Het bijzondere aan deze telefoon is dat het beschikt over een 41 megapixel camera, waar tot nu toe geen enkele smartphone aan kan tippen! In de zomer gingen er verhalen rond dat Nokia bezig was met een versie van de Lumia 1020 draaiend op Android. De Android community had dit toestel met open armen ontvangen, echter zal dit er niet meer in zitten nu Nokia van Microsoft wordt.
Met het oog op de overname van Nokia door Microsoft, die er dus aan zit te komen, zijn wij nu erg benieuwd naar wat Nokia gaat brengen. Waar is Nokia het afgelopen jaar mee bezig geweest, en wat hebben ze aan innovatieve ontwikkelingen in de kast? Wat gaat Nokia nu misschien nog snel onder het eigen Nokia merk presenteren en uitbrengen? Of zal het nu al onder de naam van Microsoft gepresenteerd worden?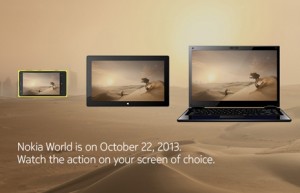 Waarschijnlijk komen ze tijdens dit evenement in ieder geval een Nokia tablet, maar Nokia heeft al een teaser over het internet zwerven dat ze misschien ook komen met een smartphone of phablet, een tablet én wellicht ook met de eerste Nokia laptop! Uiteraard allen draaiend op Windows 8.1, de nieuwe versie van Windows.
Wij gaan zeker kijken naar de presentatie en houden je uiteraard op de hoogte!
Update 22 oktober 10:30:
De live stream is straks op de volgende pagina te bekijken via een livestream.
http://conversations.nokia.com/2013/10/22/live-from-nokia-world-abu-dhabi/