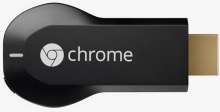 Google's antwoord op  Apple Airplay met Apple TV, de Google Chromecast, is nu ook in Nederland verkrijgbaar!
De dongle is nu voor ons Nederlanders eindelijk rechtstreeks online te bestellen via Amazon, die de Chromecast vervolgens ook naar Nederland verstuurd. Het is dus niet meer noodzakelijk om een bestelling te plaatsen bij één van de vele amerikaanse dienstverlenende bedrijven die fungeren als een soort postadres in de VS en je bestelling voor je doorsturen naar Nederland.
Na het falen van Google TV in het verleden lijkt de Chromecast zeker een concurrent te zijn voor Apple's Airplay dat alleen werkt via iOS. De goedkope Google dongle werkt "cross-plaform", waarmee je multimedia draadloos via je WiFi netwerk verstuurt naar je HDTV scherm vanaf je Android smartphone of tablet, je iPhone of iPad en zelfs via je laptop via Chrome browser.
Er zijn echter nog wel grote verschillen tussen Apple Airplay, dat al een aantal jaren bestaat, en Google Chromecast dat momenteel nog wat beperkingen kent. Zo kan je met Airplay zowel streaming content van het internet en diensten zoals Netflix en YouTube kijken, als lokale content op je apparaten, zoals vakantie foto's en filmpjes die je thuis wil laten zien aan je familie en vrienden. Met de Chromecast zou dit opgelost kunnen worden door je eigen content te streamen via de Chrome browser via een Chrome webtabblad. Met Airplay kun je kunt games "spiegelen" naar je HDTV vanaf je iPhone of iPad die je vervolgens als controller gebruikt. Dit is momenteel met de Chromecast nog niet mogelijk, maar met een software update zou Google dit in de toekomst wellicht kunnen oplossen. Ook is de mogelijkheid er voor software ontwikkelaars en fabrikanten om gemakkelijk nieuwe mogelijkheden te creëren met behulp van het "open source" Android ecosysteem van Google, waarbij de SDK-bestanden door Google beschikbaar gesteld zijn om met de ontwikkeling hiervan aan de slag te kunnen.
Een voordeel van de Chromecast is dat je na het versturen van content vanaf bijvoorbeeld je telefoon of tablet naar je HDTV door op afspelen te klikken, tijdens het kijken gewoon je telefoon of tablet weer kan gebruiken om wat anders te doen. Dit is mogelijk omdat Chromecast anders werkt dan Airplay door vanaf het moment dat je op afspelen klikt de content via WiFi binnen te halen vanaf het internet in plaats van te streamen vanaf je apparaat. Tijdens het afspelen is het mogelijk om het afspelen tijdelijk te kunnen onderbreken of het volume aan te passen.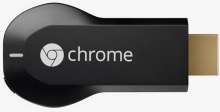 Met de Google Chromecast kun je dus je favoriete online entertainment kijken, zoals Netflix, YouTube, Hulu Plus, Google Play Music en wellicht net als in het buitenland in de toekomst ook Google Play Movies, en natuurlijk content via Chrome. Chromecast functionaliteit zal in de toekomst waarschijnlijk ook geïntegreerd worden in Smart TV's van onder andere Samsung, maar dan zul je voor een nieuwe tv wel meer moeten neertellen. Met de Chromecast maak je via een "Plug & Play" aansluiting via een HDMI ingang van je tv, USB voeding en je WiFi netwerk je huidige tv een stuk slimmer!
De Chromecast dongle kost in tegenstelling tot de Apple TV (€ 111,-) slechts € 40,74 inclusief BTW en verzending!