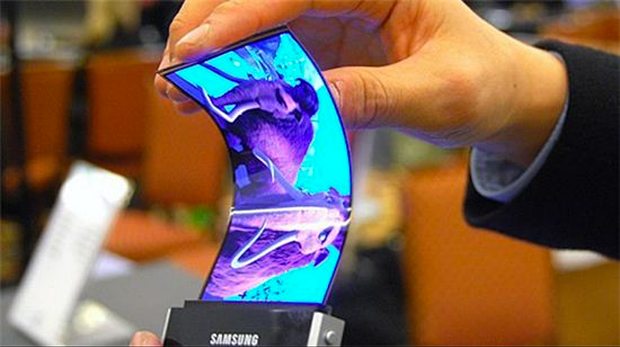 Geruchten over smartphones en phablets met een gebogen scherm gonzen al het hele jaar over het internet.
Dat fabrikanten hiermee bezig zijn is een feit. Ook over toepassing in komende smartwatches wordt hierover gespeculeerd, eerst over de Galaxy Gear, wat toch niet waar bleek te zijn en nu over de Apple iWatch. Maar zou Apple zijn retina scherm inruilen voor een Amoled scherm of flexibele OLED-scherm? Het lijkt me onwaarschijnlijk, maar ik ben erg benieuwd waarmee ze uiteindelijk gaan komen, én of het ook compatible is met niet Apple producten, zoals Android en wellicht Windows Phone?
In de laatste 3 maanden van het jaar zullen de eerste smartphones/phablets met deze revolutionaire scherm techniek geïntroduceerd gaan worden.
Samsung Galaxy Round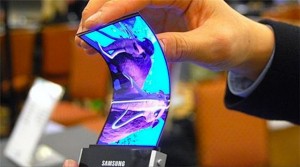 Als het goed is komt Samsung deze week nog met een nieuwe smartphone met een flexibel scherm, de techniek waar Samsung al een tijdje mee bezig is, zoals eerder dit jaar al te zien was op de grote mobiele beurs M.W.C in Barcelona.
De Samsung Galaxy Round zou voorzien zijn van een gebogen scherm vanaf de zijkanten. De Galaxy Round zou één en hetzelfde toestel zijn als de eerder aangekondigde Samsung Galaxy Note 3 Active, een phablet van hetzelfde kaliber als de Note 3, maar waarschijnlijk zonder S-Pen. Door het gebruik van een flexibel scherm zou het toestel een robuustere versie moeten zijn zoals de Galaxy S4 Active dat is van de standaard S4. Maar dan met een totaal nieuwe look!
LG Z


Ook LG heeft afgelopen week aangekondigd dat men vol gas aan het werk is om met hun eigen phablet te introduceren met een 6″ diagonaal flexibel scherm dat van boven tot onder gebogen is (radius van 700mm). Het paneel zou 0,44 mm dun zijn en slechts 7,2 gram wegen. Dat zou  het lichtste en dunste scherm ooit moeten zijn!
LG liet vandaag aan betrouwbare bronnen weten dat de massaproductie spoedig zal worden gestart om concurrent Samsung voor te zijn.
Maar als Samsung inderdaad deze week nog met de Galaxy Round op de proppen komt, dan verliest LG de race om als eerste met de geboden smartphone uit te komen..
Hou het laatste technieuws daarom nauwlettend in de gaten via onze website TechFreaksNL.
Volg ons ook via Facebook, Twitter, Google+ en Pinterest via de links rechts bovenin op onze website.